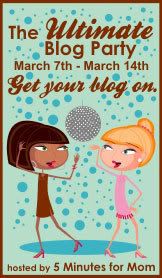 In taking part of "The Ultimate Blog Party" I thought I'd keep it short and sweet since so many ladies will be doing lots of "blog hopping." I wanted to start out by sharing a video that just CRACKED me UP the first time I saw it! I think it's the expressions on their faces that get me. At any rate.. You'll now know that I have a really weird sense of humor. LOL! (I always like to apologize when posting anything from youtube since I never know what advertisements will "pop up." So, you might wanna scroll down QUICKLY as soon as the video stops)
Now, I'd like to end with a yummy recipe. If you're here and have followed our son's caringbridge site for any length of time you may have already seen it. It was Brent's FAVORITE bread. I hope you enjoy...
~ Sweet Potato Bread ~

3 1/2 cups sugar, 2 tsp. vanilla, 1 cup vegetable oil, 2 cups of cooked and mashed sweet potatoes, 4 eggs, 3 1/2 cups flour, 1 tsp salt, 2 tsp. cinnamon, 1 cup of chopped nuts if desired (I use 2 cups pecans)

Combine sugar, vanilla, oil, potatoes and eggs, mix well. Add remaining ingredients. Mix well and pour into 4 greased 1 pound coffee cans, or 4 loaf pans. Bake at 350 for 1 hour or when a toothpick comes out clean. The mixture nearly doubles in size, be careful not to get baking pans too full. I never fill the baking dish more than 3/4 full and a little less wouldn't hurt : )
For more fun you can check out The Ultimate Blog Party by clicking
here
.